After the random sicknesses I decided, why not just schedule shots this week too? Add a little more "fun" to my week! Oh... and the week has only just begun! ha!
I took Asher in for his first year baby well. Everything is great. He's big, beautiful, happy, and most importantly healthy!
He's walking (since 9 months), running (now), wrestling with Jake, eating everything we eat (no more baby food), drinking whole milk since his birthday (about 24 oz), and just a healthy little dude.
In the next few months (by 15 months) there will be no more bottles in the Stone house, and all boys will continue with no more than 16 oz of milk. Jake drinks much less. But, he still LOVES milk. :)
On to my little man's stats...
Asher John is 28 pounds and 2 ounces. He's 33 inches as well. 100 percent across the boards.
Jake was 26 pounds and 32 inches when he was one. It's hard to believe that this little dude is even bigger!
Let's all take bets when my boys outgrow their 5'4 mama!
We recently switched doctors, so they haven't met my husband yet... as you can imagine, a little mama walking in with these big babies. They measure and weigh the boys twice thinking they've made an error. They can't believe how tall they are. And then I have to go into the story about my husband being 6'8. That story will continue for the rest of my life, I'm sure.
As soon as they meet Grant, I'm sure they will stop with the double measuring and weighting! ;)
He had 2 shots, and a hemoglobin test. He didn't even make a move with the blood test. He was preoccupied and didn't even move. He looked down and saw the band aid, and ripped it off. That was it! The nurse said that never happens. Then the shots came... He only cried for a second. It mainly scared him, and then he moved on. The nurse made a comment about how strong he was. Something else I already know. ;)
I was talking to my sister and law last night, and I told her I think it'll be harder taking the kids in for shots as they get older, and actually know what's coming. She said it does get worse. Especially when they look at you and say, "mommy, promise me we will never ever have to do that again!" YIKES. I'm sure that will happen to me at Jake's 3 year old appointment in September. BOO!
Here is my baby love at his appointment. And yes, I squeeze him all day. How could you not? ;)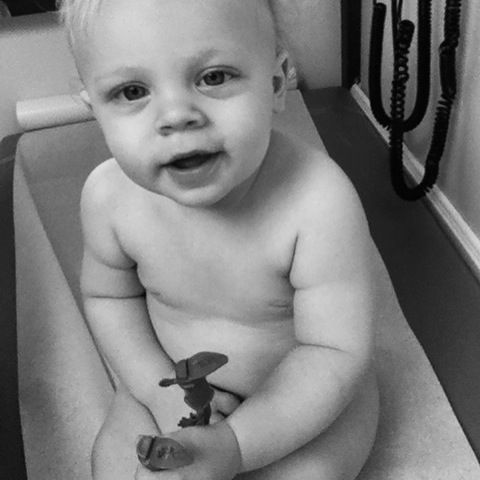 I love being a mommy!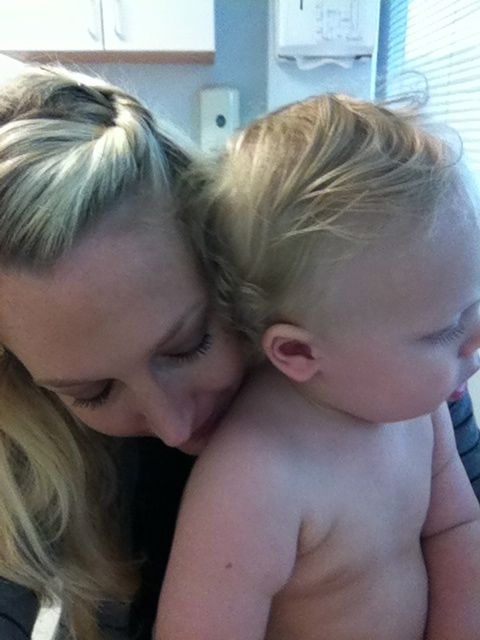 Enjoy your Wednesday!